Posts Tagged 'mirrorless'
Tuesday, July 29th, 2014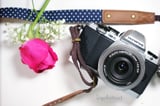 Hello!
I've got some really really exciting news to share, more so for myself actually but remember the little camera dilemma I found myself in a while back? When I posted this LOTD?
Well, that dilemma is now a thing of the past because...
Voila~
My new shiny and sexy baby, woots.
Okay I couldn't h (Read more...)