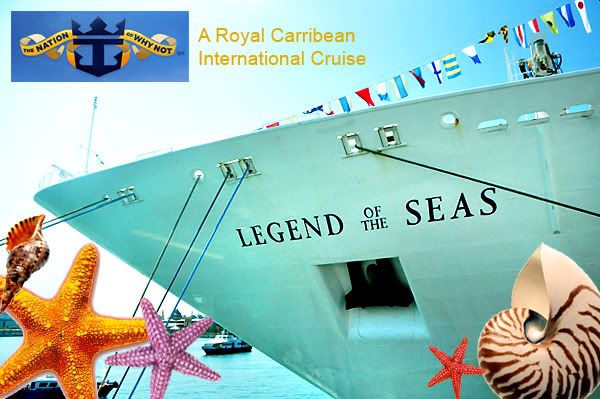 What stories does the Legend of the Seas (LOTS) behold? Join me on a nautical exploration onboard this 70-tonne cruise ship!
The last time I took a cruise holiday was when wavy perms and baggy pants were in vogue; and Enya's Orinoco Flow urged all to "sail away, sail away", bringing about a revival of the Celtic voice in New Age anthems. Point is, that's a long time ago. My cruise memory dates so far back, it has become somewhat of a personal legend where I have a consciousness about it, but I cannot prove it happened because there are no details for recall or photos of my encounter.
So when I'm invited to join a bloggers' contingent on a half-day tour of the Legend of the Seas cruise liner, I wasted no time in signing up. And here are my first impressions of the ship on this very short visit…
LOTS to Explore!
When I first saw the cruiser, I was wow-ed by the size of it. But it is still considered a baby compared to the biggest ship in the Royal Caribbean fleet – the soon-to-be launched Oasis of the Seas which weighs in at 220 tonnes. If LOTS is already so massive, I can't imagine the size of its new sibling.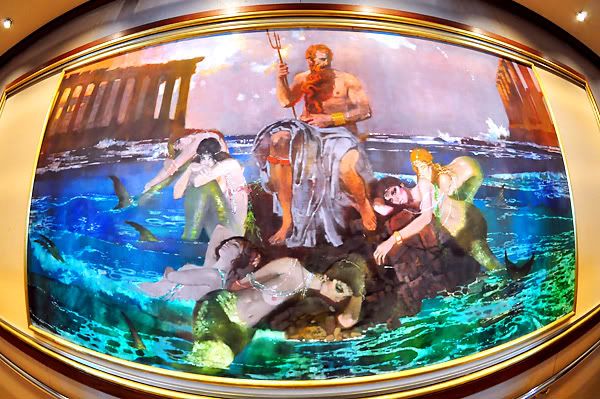 The Romans call him Neptune, the Greeks revere him as Poseidon. No magical seafaring legend would be complete without the likeness of him.
Owned by the multiple award-winning cruise operator, Royal Caribbean International, LOTS sailed its maiden voyage in 1995 and has gone through refurbishment recently.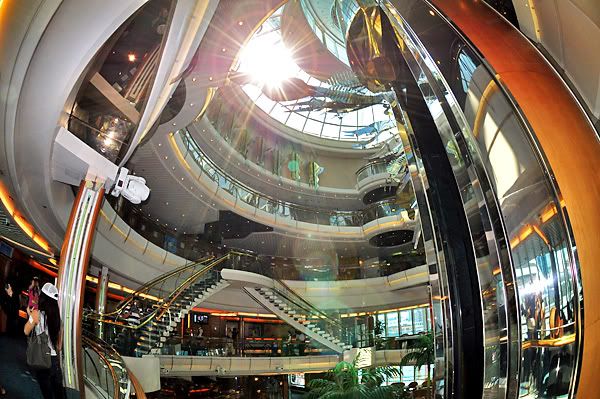 LOTS of class in terms of decor and furnishings. The ship's interior is an interesting blend of grand European fashion, Renaissance art, and contemporary fixtures.
If you 'smell' something fishy about my camera angles, that's because I'm using my new fisheye lens which I bought to coincide with this half-day excursion. Been wanting to get a fisheye lens for the longest time and this is the perfect excuse to get it despite the chagrin of my dieting pockets. I hope it'll turn out to be a worhtwhile investment.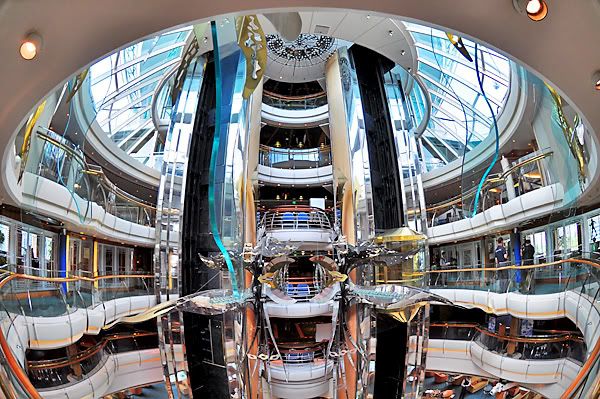 This is the central axis that runs through various deck levels of the ship.
According to the ship's cross-section plan, there're a total of 11 decks that house a myriad of activity areas for children, youths, adults and the whole family. Facilities include various lounges, dining rooms, a casino, library, day spa and fitness centre, solarium, theatre, shopping arcade, and sporting nodes on the sun deck. More about the ship's highlights here.
LOTS to Chill…
This is the first time I'm meeting so many bloggers on a face-to-face basis. There were more than 50 of us! I really enjoyed the fellowship and opportunity to learn from many of them in that short time. They were so friendly and helpful, it felt as if this wasn't the first time we met.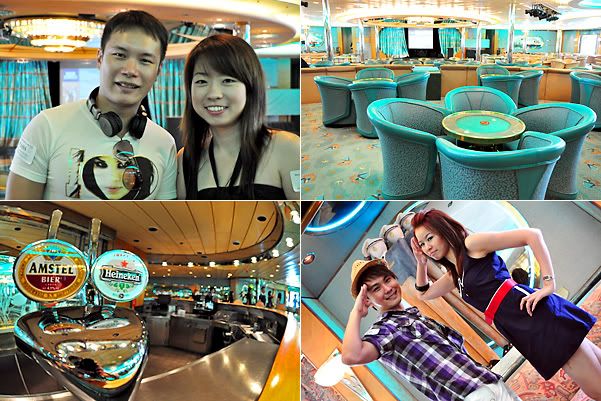 The Anchors Aweigh Lounge is where one can relax to live jazz music or hold a private function in a spacious, yet cozy setting.
Before the tour started, all of us gathered for a briefing at the Anchors Aweigh Lounge. Even though the lounge wasn't operating, I can imagine sitting in the cushy emerald couches, sipping a cocktail and just relaxing to the sounds of smooth jazz.
LOTS to Shop!
One of the things that surprises onboard was a mini shopping 'district'. It's a district because there weren't just one or two shops but a collection of shops selling all kinds of stuff from clothes to skincare products to souvenirs to my favourite… booze!