Monday, October 20th, 2008
there are some things in the world we'd rather not have lots of: parking fines, white hairs, bird shit splatters and body fat (the last isn't true of my dear yihui by the way).
then again, there are some things which we simply can't have too much of: chocolates, hunky male athletes, good hair days, money and of course…
Stuff from SWET to show just how much of a great supporter you are! =D
Us at SWET, we love our logo so much (seeing how pink and cool it is with its mountain graphic and all) that we can't help wanting to see it everywhere. Plus, we think pink-haters are such repressed souls that they are screaming out to be enlightened by having their sights constantly bombarded by said colour.
We are on a mission to pink-ify the planet with our uber-gorgeous SWET mountain logo, so have you done your bit yet?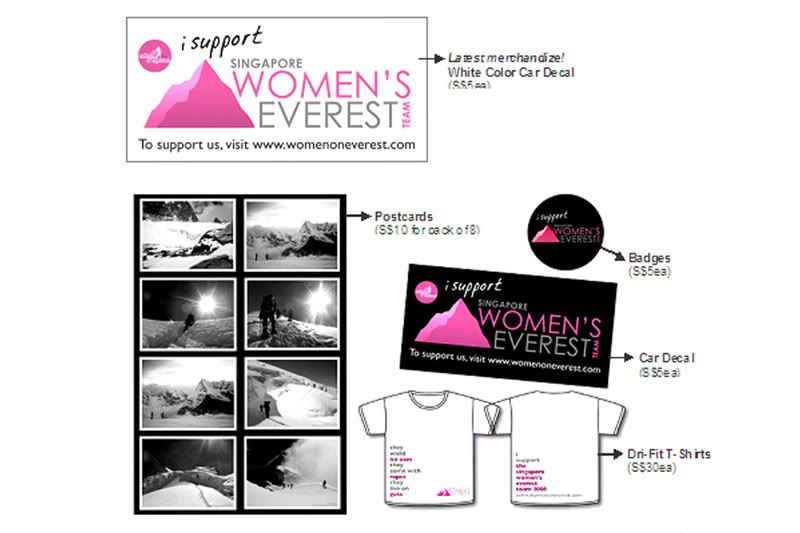 Seriously though, with our Everest climb less than 6 months away and the fundraising clock ticking madly, we need all your support! No amount is too small and you can start by purchasing our SWET merchandize! All proceeds go directly to the team to help offset our costs!
Imagine, your purchase today could help pay for part of a life-saving oxygen bottle, the salary of our climbing sherpa or the rice we eat at base camp all the way at Mount Everest. Isn't this the coolest way to "stretch your dollar" or what?