Thursday, August 30th, 2007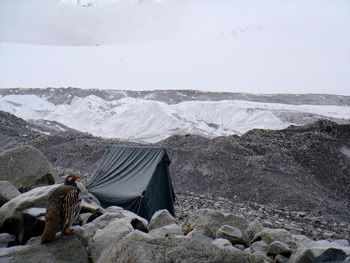 The day before, we went for an acclimitisation hike trying to hit the base of the 'killer' scree slope of Camp 1 (or lakeside camp) but we stopped short of 1.5hrs of destination and turned back. By far, it was the most demoralising tasks that I have ever undertaken in my life. I know that it was demoralising when half the time I was hoping to see the never ending point and the morale dropped 50% after Kami (our chief sherpa guide) said that we were still 3.5hrs away from where we want to be. By then, I was gripped by a pressing headache. Felt like the Monkey God (Sun Wu Kong) with the metal crown pressing tightly against his forehead. At some point, we were debating to go on or not, whether the altitude gained was worthwhile or not, Yihui decided that we would go on until 1230hrs and turned backed.
Well, we had been walking since 8am, bypassed the 'vivo city' a mega campsite 20mins walk from us; ice blocks filled with morraine and ice formations and crossed a side of the mountain that could give us an idea of the scree slope of what we were going to climb; where we could see Camp 1 on the snow line. During dinner time, Kim Boon asked us what do we think of Camp 1 and no one made any sounds. Guessed that each of us were in deep thoughts on how to overcome this journey; we have to clear the scree slope at least 4 times. I was seriously doubting whether I can overcome it, but I figured out if Mark Inglis (the double amputee Everest summitteer) can do it, I don't see why I can't. Fatigue and exhaustion are bound to have, sooner or later, I'll reach it.
Climbing gives you the weirdest dream. I dreamt that I had sashimi amongst all the things that I had dreamt. Slices of salmon (orange slices with white strips) and maguro filled up my plate and I was savouring each of them with wasabi and soy sauce. Then, my eyes opened up to a brightly lit orange ceiling and I found myself in a sleeping bag; far away from any possible sushi restaurant in this part of the world. I was rudely jolted back to reality that I have not finished climbing this mountain. Waking up at 6.30am; I felt a bit warm, for the first time that I was here in ABC, realised that the snowfall was not as heavy the previous night. Went out and was pleasantly surprised to see 5 pheasants roaming in our campsite. I took a lot of photos of them; they really provided a welcome change to the greyish, white dreary background of our campsite. They were plump and fluffy and I was happy just taking close up shots of them. According to the book 'Medicine for Mountaineering', birds can fly higher for much longer periods, but no mammals, including humans, live permanently above 5300m, suggesting that this is the upper limit to which they can acclimitise. This might explain why we only see alpine sparrow, pigeon and crows and now pheasants. Alpine, a convenient word that we coin for the birds that we saw. No baca, no marmots, no rabbits, no deers on this height that ABC was on.
Today, we tested our climbing gear, crampons and boots, down suits and harness. I was super disturbed that my harness was denounced as one that would give me a lot of inconveniences especially when we had to put on and remove it for peeing. At that altitude, every single movement is going to take up a lot of energy. One has to find every way to conserve our energy, including weighing every single item that we are going to carry up. Have to travel ultra light, no unnecessary item to bring up. This is one important lesson that I will not repeat in Everest.